HIGHLIGHTS
Brachioplasty, which combines surgical skin excision with RF tightening and liposuction, is the most complete correction.
RFAL or J Plasma plus liposuction is a good solution for those needing moderate correction, and for patients hoping to avoid a long incision.
Halo resurfacing, IPL for pigmentation, and microneedling with DefenAge offer improvement for skin quality in the upper and lower arms and hands.
This 67-year-old was very fit but found that no amount of diet and exercise could improve her large and flabby upper arms. Because she had disproportionately large upper arms with quite a bit of excess skin, she opted for surgical skin excision combined with liposuction and RF assisted skin tightening.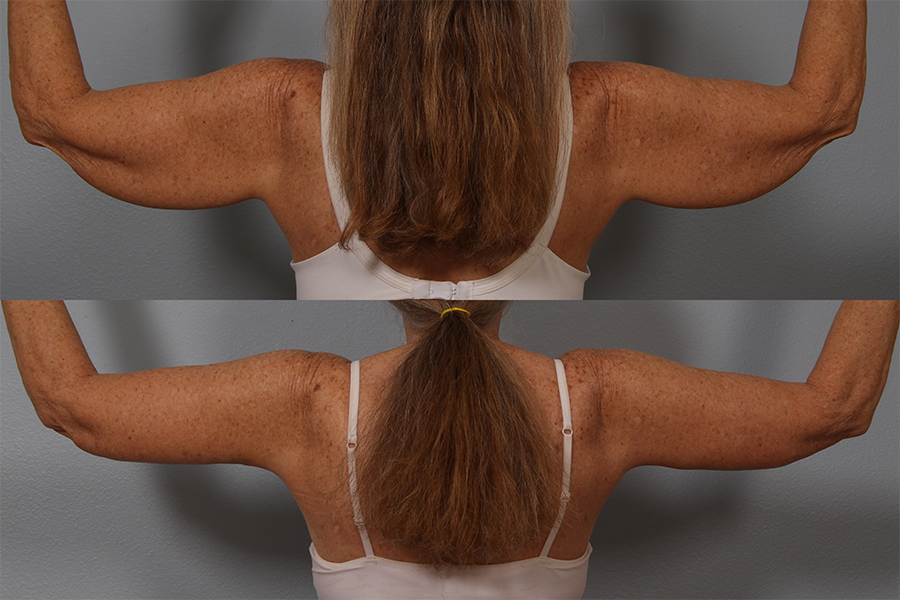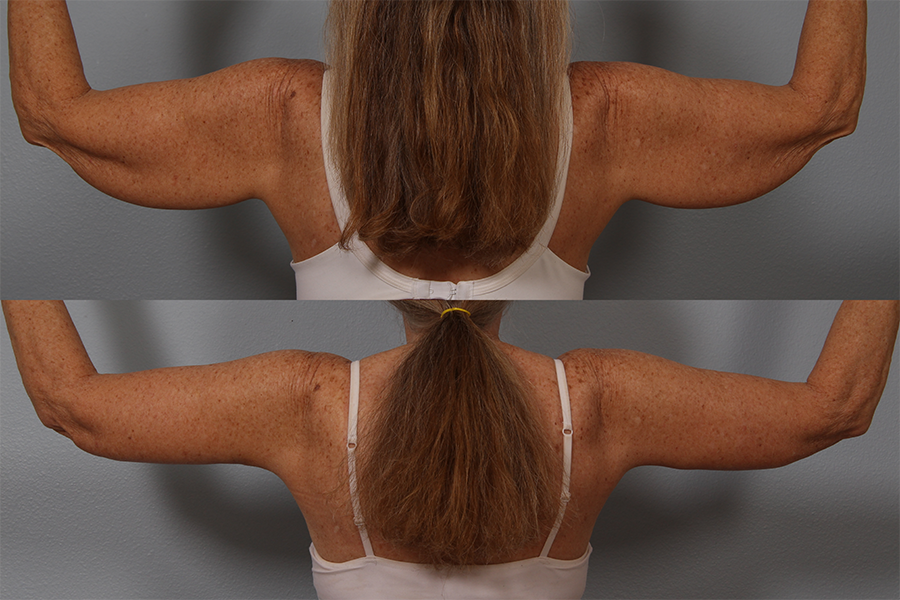 Please explain the muscle separation. My personal trainer tells me there is no exercise that will fix this.
The diagrams below show the position of the youthful abdominal rectus muscle , left, and the damaged muscle following childbirth, age, or weight loss (right).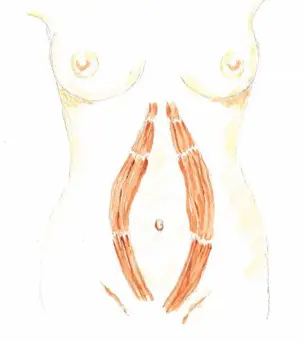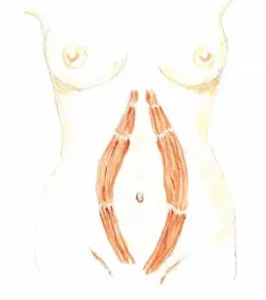 Because there is no central muscle tone anymore, the stomach and intestines are allow to bulge out. While this is not a true hernia—insurance will not pay for the repair—the midsection protrusion that troubles many moms can only be repaired with a tummy tuck. Simple liposuction will leave the problem uncorrected.
My kids are 5 and 3. I've been working out at the gym for 2 years, but I am not seeing any improvement. I have skin that hangs over my C-section scar. I think losing more weight will only make this worse. Am I right?
You are most likely right. Stretched out skin will only contract slightly after pregnancy or weight loss. We have a non-excisional solution for mild to moderate skin excess, when you need less than a 33% contraction (see RF assisted abdominal contouring). However, if you have pendulous skin that hangs over a scar or in a swimsuit, you are like to need a tummy tuck.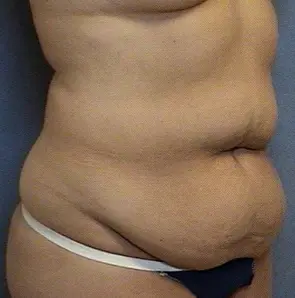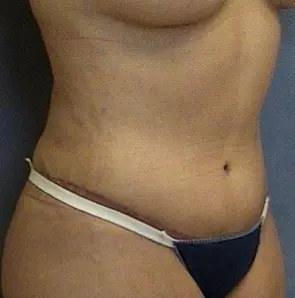 Left: 41 year old after having children, going to the gym without improvement. Right: Patient six weeks after abdominoplasty and liposuction of the flanks by Dr. Duncan. The incision is quite narrow and turns white over time.
How long does the surgical improvement last? I don't want to have a tummy tuck if it needs to be redone.
The patient below had a tummy tuck by Dr. Duncan at age 30. She returned 12 years later for another concern. She maintained her results by following a careful diet and going to the gym 4 times a week.

Left: 30 year old following childbirth. Right: 12 years after tummy tuck by Dr. Duncan.
I'm worried about how much this might hurt. I looked it up on Real Self; a lot of patients complained that postoperatively they had a lot of pain.
Dr. Duncan uses a pain pump, filled with long acting local anesthetic, in addition to giving you a prescription for pain medication. This lasts for four days. Usually patients do not need pain medication other than Tylenol past this point.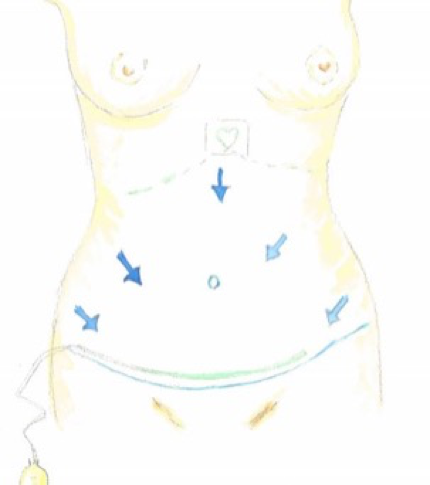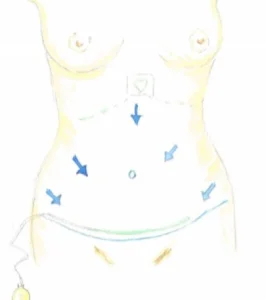 The pain pump slowly drives the liquid medication through two IV-like catheters that are inserted just below the rib cage. These small tubes are removed on day 4. There is a drain in the lower abdomen that Dr. Duncan will take out about one week postop.
Many of our patients have an intolerance to codeine based pain medication. We have several alternatives including Tramadol, muscle relaxants, and Meloxicam. About 25% of our patients need no pain medication if the pain pump is used.
Schedule Your Consultation
Dr. Duncan's artistic style results in dramatic, yet natural improvements. She works with each individual patient to create a personalized treatment plan based on his or her unique situation and desired goals. We would love to speak with you about achieving the best version of yourself. Call Plastic Surgical Associates in Fort Collins today at 970.493.7445 or click the button below to request a consultation. You can also email us any inquiries at info@drdianeduncan.com.