The first "fix" we consider for an aging face is a facelift. There are many different ways to lift sagging facial features; not all of them involve expensive surgery. If you are thinking that your face and neck need a lift, consider a consultation as
many of our solutions are minimally invasive. A traditional face and necklift may be indicated if you have quite a bit of extra skin. This does involve a surgical procedure which is safe and superficial, just under the skin.
HIGHLIGHTS
Dr. Duncan's face and neck lift style is dramatic yet natural, with very little down time.
RF lifting using the Inmode or J Plasma device can tighten skin with only small access points .
Laser and fat grafting is our most popular minimally invasive solution for lifting an aging face.
Halo resurfacing, IPL for pigmentation, and microneedling with DefenAge offer improvement for skin quality in the face and neck region.
A much less invasive procedure involves using radiofrequency energy to tighten the skin envelope and create a firmer framework under the skin, reducing the probability of recurrent sagging. Laser resurfacing can also tighten the skin, about 10%. A good combination of less invasive procedures might include laser resurfacing and creating volume with either fat or fillers. Skin resurfacing with either erbium laser, Halo hybrid laser, or radiofrequency assisted thermal needling can improve skin quality. Microneedling with DefenAge, a stem cell-based dermaceutical, also achieves significant results with little to no downtime.
Patients seek Dr. Duncan's skills for face lifting because of her skill, experience, and the variety of options available. A personalized approach is key to a successful outcome. The first step is a consultation with our patient care coordinator. Options for improvement of the neck will be reviewed, and approximate costs are discussed. Best results are obtained when the approach is a team one—postop activity moderation and following up with the surgeon will optimize the results.
This 67-year-old felt that she look tired and old, though she did not feel this way inside. She stated that she wanted her external appearance to reflect the energy and positive attitude that defined her personality.
Left, 67 year old before treatment.
Right, Result 2 years following face and necklift, erbium laser resurfacing, and fat grafting.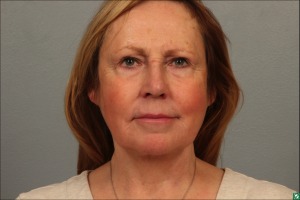 I'd like to look better but I really don't want the old style facelift.
If the amount your skin needs to shrinking is about 30% or less, Dr. Duncan may be able to treat you with radiofrequency-assisted skin tightening. This approach is especially good for patients with mild to moderate sagging, jowls, and a bit of neck skin laxity. When combined with laser and fat grafting, a well-defined improvement can be seen. This approach corrects the problems created by natural aging: loss of collagen support for the skin, age-related facial volume loss, and wrinkles plus damage.
What about my facial skin quality? I spent time in the sun when I was younger, now the skin is wrinkly and discolored.
Occasionally a single procedure can dramatically improve facial appearance, especially if a strong history of sun exposure is the cause of aging. Many of our patients start reversing their apparent age with full field erbium laser resurfacing. Wrinkle reduction, correction of pigmented spots, improvement of acne scarring, and restoration of luminosity to dull, dry skin are hallmarks of this procedure. If there is volume loss or significant skin laxity, laser treatment can be safely combined with either fat grafting or fillers, plus a mini-neck lift or RF neck lift.
Recovery time and results: how do I choose a procedure?
A traditional face and neck lift is needed if you have significant skin laxity. The neck can be approached by itself, but generally tightening the jawline is indicated as well. Short incisions can be used in many cases. Dr. Duncan is very careful to avoid distortion; your face will not look odd or "done". Recovery time is about 7-10 days. RF assisted liposuction utilizes the Inmode FaceTite device or J Plasma, or a combination. It is chosen if skin laxity is mild to moderate, and the amount of skin tightening needed is less than 30%. In this procedure, tumescent fluid is infused and some liposuction is performed, if indicated. A compression garment is worn at night for several weeks, but patients can return to work within a couple of days. Laser and fat grafting are a good alternative if skin quality and volume loss are a concern. This combination costs less than a traditional facelift and can help take years off your aged appearance. Recovery for laser resurfacing and fat grafting is about a week. Minor procedures that can help include filler injections, or nanofat plus Allofill, if volume loss is a main concern. Resurfacing with the fractional laser, Halo, RF needling, or microneedling are good first steps if the idea of surgery is not for you. Soft tissue tightening with Thermismooth or Forma can add firmness and tone to aging lax regions. Lumecca and BBL are broad band lasers that reduce hyperpigmentation and prominent blood vessels. Rosacea can be well treated with Halo, based on recent research using high resolution ultrasound.
I went to see another doctor who recommended a midface lift. Will Dr. Duncan perform a midface lift?
Dr. Duncan generally avoids midface lifting unless this is the only solution for the patient. She sees many patients who have been treated elsewhere. Quite a few have noted distortion or a "pulled" look following this procedure. Because her primary goal is to improve appearance without distortion, this is usually not a top recommendation.
Schedule Your Consultation
Dr. Duncan's artistic style results in dramatic, yet natural improvements. She works with each individual patient to create a personalized treatment plan based on his or her unique situation and desired goals. We would love to speak with you about achieving the best version of yourself. Call Plastic Surgical Associates in Fort Collins today at 970.493.7445 or click the button below to request a consultation. You can also email us any inquiries at info@drdianeduncan.com.