Wrinkles, sun damage, and skin laxity are three of the main attributes that make us look older than we are. Our several laser types can take away that weary, weathered look. Dr. Duncan educates other physicians internationally, frequently lecturing on this topic!
HIGHLIGHTS
Laser resurfacing will dramatically reduce wrinkles, sun damage, acne scarring, and surface irregularities.
Clients seek our Dr. Duncan for her significant and long lasting results.
New procedures include permanent rosacea reduction, and Halo treatments off the face for aging skin on the neck, décolleté, arms, hands, and knees.
Whether you opt for lighter or more intensive laser resurfacing, our practice will guide you in your treatment and support you at every stage in the process. Contact
us below to schedule your complimentary consultation today!
Patients come to us for a variety of reasons when seeking laser resurfacing. Many times our patients simply want to look better for themselves. Sometimes they are seeking out a new relationship, and increased confidence is a must. For example, acne scarring reduction is addressable with laser resurfacing. We have clients where a more youthful look allows them to continue their careers. A rejuvenated look makes many of our patients feel younger, not just look like it! On the other hand, some patients look to reduce their skin cancer risk. Laser can significantly reduce sun damage.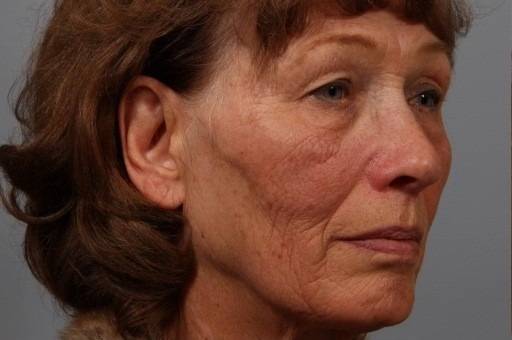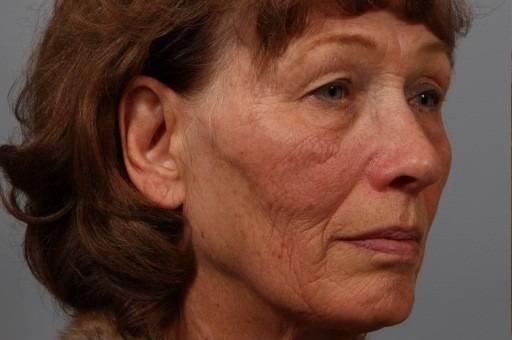 This 70-year-old came in because her upper eyelids bothered her. After having an upper lid blepharoplasty, she felt that she would like to pursue something else done that would make her look younger. Erbium laser was performed, results above show
patient at 6 weeks post-op.
Left, 70-year-old female with severe wrinkling and solar elastosis prior to treatment.
Right, 6 weeks following upper lid blepharoplasty and erbium laser resurfacing.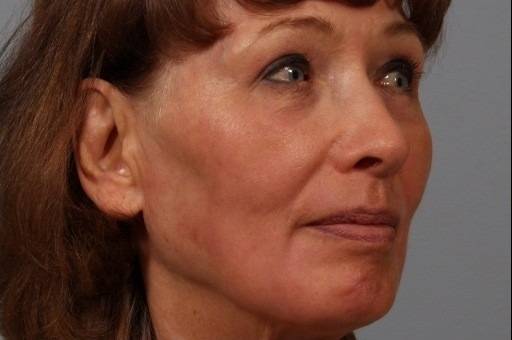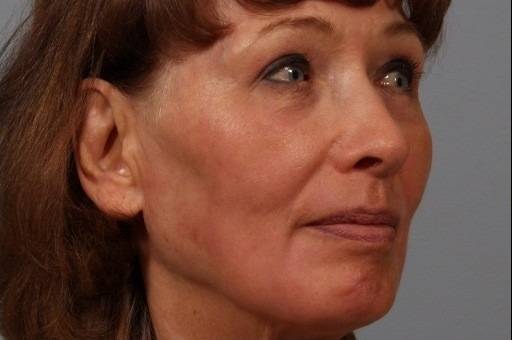 Aren't all lasers about the same? What's special about erbium laser?
Erbium
Erbium laser is preferred by many physicians and patients because of its safety record. CO2 lasers do not discriminate between the layers of the skin and can go quite deep, causing permanent hypopigmentation and a "waxy" look to the skin. Erbium laser can fully remove the top layers of skin, and punctate bleeding signals the physician to stop when the superficial layer of the dermis is encountered. Erbium laser heals very quickly—about six days for a full ablative erbium laser treatment– as opposed to ablative CO2 or plasma type treatments, which take 3-4 weeks to heal.
What does Dr. Duncan do differently? I've had laser before and was not impressed with the results.
Many physicians offer laser resurfacing, and the results can be mixed. The majority of laser offerings are "fractional", meaning that only a part of the skin surface is treated. If the goal is a modest improvement without much down time, then fractional laser, which leaves small dots where the treatment was performed, can be a good solution. However, if maximum correction and wrinkle removal is your goal, a combination of erbium full field treatment plus pro-fractional laser will give the best improvement of an aged appearance. Dr. Duncan is a key opinion leader for Sciton, and speaks about the procedure at medical meetings in the US and internationally on this subject.
How long does the effect of erbium laser last?
The effect of a full surface (not fractional) treatment can last up to 20 years if maintained by regularly using a good sunblock and a good skin care regimen. The procedure is safe to perform on an annual basis if a more modest procedure is performed. A study performed in California showed a reduction of genetic age markers following Sciton laser treatments. While laser resurfacing will not prevent aging, it can reverse the appearance of pigmentation, wrinkles, solar elastosis, acne scarring, and crepey skin.
What's the difference between full field erbium and fractional with Halo?
Full Field Erbium vs. Fractional Laser (HALO)
Full field erbium treatments remove the entire skin surface, therefore achieving maximum correction of patient concerns. Halo or other fractional treatments only affect part of the skin surface. The maximum density of the Sciton laser is 22%. This makes healing more rapid, and the temporary deformity is less severe. Halo combines two wavelengths of laser: 2940 (erbium) and 1470 (sublative) to form a hybrid laser treatment that works in two ways. Traditional erbium laser will improve the skin surface. The sub-ablative laser targets the epidermis below the skin surface. This laser type can also improve the appearance of broken blood vessels in the superficial dermis. Both lasers can be adjusted to reach different depths of skin, so they are very precise. The Halo laser is very good for treating the skin on hands, arms, knees, and the neck as well as the face.
What is the recovery time, and what type of results can I expect?
Recovery from Laser Resurfacing
With full field erbium laser resurfacing, recovery can take 6-10 days, depending on the depth of treatment. Most patients can apply mineral powder makeup at 6-7 days. Fractional laser or Halo hybrid laser treatments usually take 3-5 days to heal. The temporary deformity is less with fractional and Halo treatments, but the results are more modest as well. Full field erbium laser is generally not recommended for skin types V and VI, as post-inflammatory pigmentation can be a concern. For these patients, we recommend radiofrequency assisted thermal micro-needling, often with a topical application to boost healing time.
Results
Results with both approaches are quite good. Full field erbium usually corrects over 90% of wrinkles, sun damage, and the crepey texture of aging skin. Fractional approaches can result in about a 30% correction with a moderate treatment. Therefore we recommend a series of 3 fractional treatments for the best outcome.
Schedule Your Consultation
Dr. Duncan's artistic style results in dramatic, yet natural improvements. She works with each individual patient to create a personalized treatment plan based on his or her unique situation and desired goals. We would love to speak with you about achieving the best version of yourself. Call Plastic Surgical Associates in Fort Collins today at 970.493.7445 or click the button below to request a consultation. You can also email us any inquiries at info@drdianeduncan.com.