RADIOFREQUENCY – ASSISTED
HIGHLIGHTS
New developments in equipment and techniques have made liposuction even more popular than ever.
A big advantage of adding radiofrequency energy is the ability to tighten skin up to 35% – without cutting any skin out.
Skin that is lax or hangs slightly can now be tightened, in many cases, using minimally invasive techniques.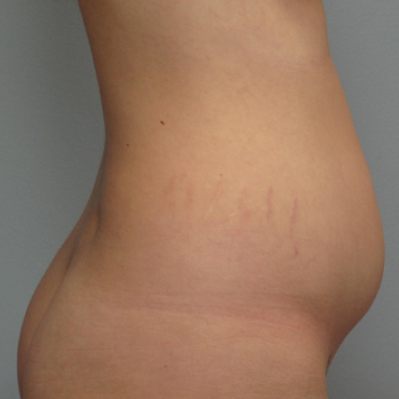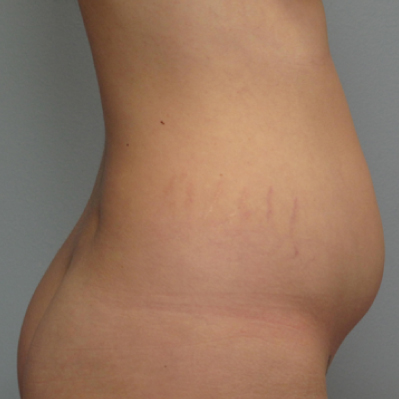 Left: Patient before treatment. 
Right: 6 weeks after liposuction plus radiofrequency assisted skin tightening.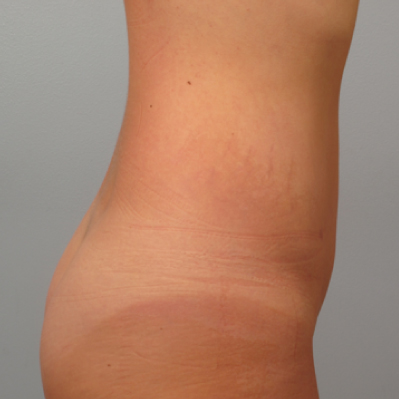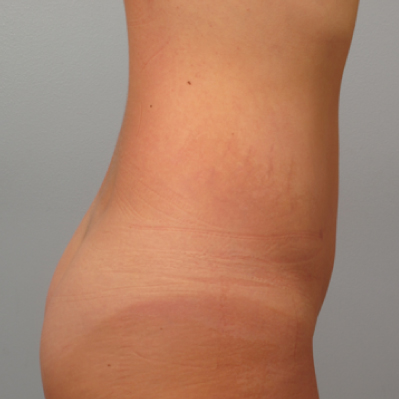 Note the dramatic improvement in contour and reduced prominence of stretch marks.
To view more liposuction before and after photos, click here to visit my gallery.
I haven't ever heard of this procedure. I know about VASERlipo® and Smartlipo. Why don't you use either of these anymore?
Neither Vaser nor Smartlipo can create this dramatic level of skin tightening and contour improvement. Vaser produces an 8-10% skin surface area reduction, about the same as traditional liposuction or SAL. Smartlipo can create a 13-17% skin surface reduction. Using radiofrequency in combination with liposuction can give up to 35% skin surface contraction as measured with a Canfield computerized Vectra system.

He felt the project "turned out really well". He returned to work 3 days postop and resumed gym workouts at about 5 weeks.
Back in the late 1980's, when liposuction was new, people were happy with just having fat gone. Now we all want more: less risk, less down time, and skin that doesn't look wavy or ripply. What's changed?
Because liposuction remains at the top of the popularity list monitored by ASAPS, both practitioners and consumers continue to focus on improving outcomes. The use of tumescent fluid infused before removing fat reduces blood loss and perioperative discomfort. A close tab on the use of lidocaine reduces the risk of lidocaine toxicity. Limiting the amount of fat removed in an outpatient setting has made the procedure safer. Also, use of soft tissue tightening has greatly reduced the likelihood of wavy, ripply skin. Nowadays, instead of using superficial liposuction for that purpose, RF-based devices can achieve measurable skin tightening without adding risk.
I've heard that men have mostly "Internal fat" that cannot be removed with liposuction. What is a realistic expectation for a result in a man who has a bulging abdomen?
The patient still has a slight bulge due to internal or omental fat. This can easily be lost with a low carb diet in men. Women tend to have a bit more subcutaneous fat. Their results with diet and exercise are much slower.
I've heard that the flank area is difficult to get good results with the flank area as the fat there can be "athletic". What does that mean?
An Austrian colleague explained it to me: old fat is usually soft, or pudding-like. Young fat is usually more fibrous and can be found even in otherwise trim athletes. Soft fat responds quite well to liposuction. The more fibrous fat can be stubborn. These types of areas are very responsive to the addition of RF energy.

Left: 36-year-old had diet/ exercise resistant spots. Right: Same patient, same underwear 3 months post RFAL.
What about thighs? My friend had hers done and now the skin looks drapey and has divots. Can liposuction fix cellulite?

Left: 28-year-old with cellulite and fat in the inner and outer thigh region. Right: Six months after RFAL. Using RF heat to tighten skin gives a smooth look postop.
Schedule Your Consultation
Dr. Duncan's artistic style results in dramatic, yet natural improvements. She works with each individual patient to create a personalized treatment plan based on his or her unique situation and desired goals. We would love to speak with you about achieving the best version of yourself. Call Plastic Surgical Associates in Fort Collins today at 970.493.7445 or click the button below to request a consultation. You can also email us any inquiries at info@drdianeduncan.com.